CRS-3 was a SpaceX resupply mission to the International Space Station.  The SpaceX Dragon capsule was taken up by the Falcon 9 rocket.  After several delays due to weather, the rocket launched on April 14, 2014.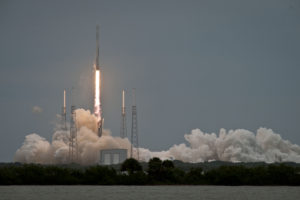 CRS-3 Liftoff
Image Credit: SpaceX
However, while the weather at Cape Canaveral met requirements for the launch, the Cast Glance P-3 aircraft remained grounded due to bad weather further north.  The SCIFLI team was unable to get the desired imagery for this mission.